IMAGINE: Birdsong every morning. Fresh, organic fruit & fish dinners. And balmy evening air fragranced with frangipane and magnolia. Is there a better way to enjoy the Island than with a real luxury Bali jungle villa with a pool?
PLUS: Get your holiday for FREE – click to see how to win a trip to Bali.
Salt-water-pool-side barbecues, stocked Tilapia & Gurame ponds, motorised scooters, fusion cuisine by local chefs & a yoga platform overlooking the rainforest and your own private waterfall. There's so much more to Bali than the usual beach-resort tourist traps – this is a land of primordial rainforest, with countless species found nowhere else and so much to explore: think endless rice fields, sleepy jungle villages & ancient temples on the slopes of long-dormant volcanoes.
If you ask a seasoned Bali traveller, they'll tell you that the way to experience the real Bali is from your own private Bali jungle villa, with a pool, of course – because, hey, this is Bali after all!
But how much does that cost? Where is the jungle in Bali anyway? Is it safe? And what's the best Bali rainforest accommodation? PLUS: What's there to explore in the jungle?
There's so much more to Bali than the beach
For many years now, the thriving hotel tourist industry, with its big marketing budgets has created the impression that the island of Bali is mainly a beach holiday destination. And, this is really a bit of a disservice to you as the visitor.
Yes, Bali has great beaches, but there's so much more to this gorgeous island. You don't have to live on top of hundreds of other people in cramped hotels. You can literally get your own, secluded luxury Bali jungle villa with a pool – often at half or a third of the cost of a hotel room!
Luxury Bali jungle hotels & resorts
The island is dotted with getaway alternatives (shall we say, more real?). There are jungle hotels, jungle resorts and lodges all over the island – most of them within a few minutes' drive from the beach anyway. And they offer a much more authentic Bali escape experience.
If you just look at the rich rainforest and biodiversity on the island, it's easy to see that the real adventure lies in exploring unspoilt forests. Which you can do on a motorized scooter! No kidding. From luxury mountain-top resorts to luxury spa experiences in the jungle, there's so much more to discover for your Bali getaway.
And the latest spot to open to the public is a truly unique jungle villa escape called Bali Palms.
Worth a look: Our NEW luxury Bali jungle villa with pool (& options)
Right in the heart of the Tabanan regency, the "rice bowl" of Bali, just an hour from Denpasar (Ngurah Rai), in the area that locals call the "Real Bali," is the newly finished Bali Palms jungle lodge-escape.
It's a self-sustained collection of just 10 private bamboo-and-brick Bali jungle villas with a pool (salt-water, for your pleasure), set on 5 acres of beautifully landscaped grounds in the heart of rural Laleng Village, surrounded by sleepy jungle villages (come meet the locals!) and rich Bali forest – come hike, bike or use your own motorized scooter to explore the real Bali.
Why it's Epic!
You get the best of the true Bali jungle experience, with all your creature comforts. Bali Palms boasts stocked Tilapia and Gurame ponds – catch your own supper! – with a private waterfall walk, our own organically grown fruit, veggies, and livestock and a raised yoga platform overlooking pristine, unspoilt Bali jungle.
But you experience it all from the comfort of your own air-conditioned villa, with private verandah, cotton sheets and every luxury imaginable. Enjoy our signature outdoor (semi-covered) bathrooms, tiled in natural stone, for the ultimate private al fresco experience of pure indulgence, including our own custom-created bath and skincare products. See the Bali Palms accommodation and facilities.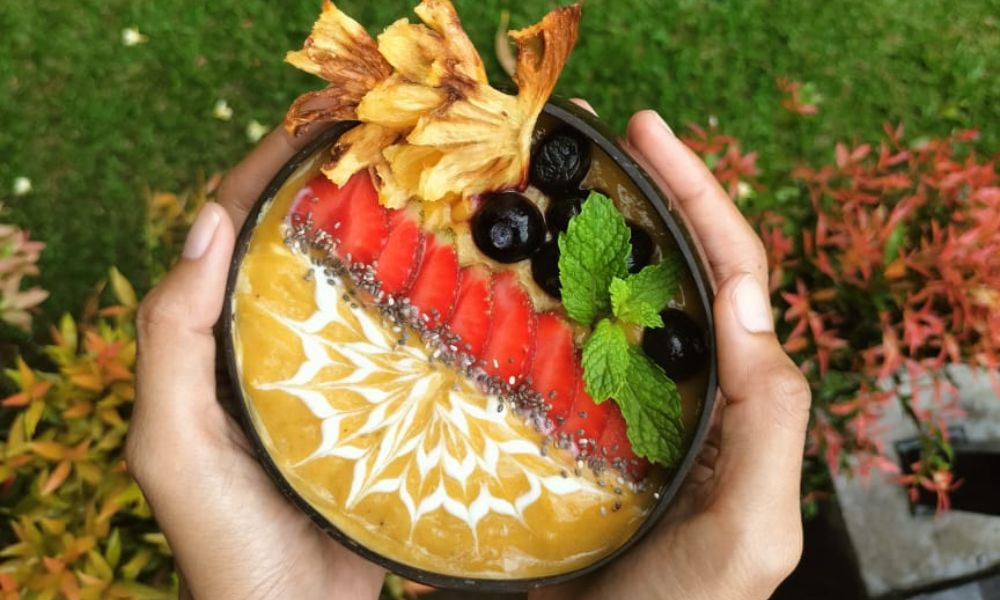 And, of course, we have our own local chef who specializes in Indonesian, Balinese, and fusion Western cuisine – discover the Palms Restaurant.
The best part? All of this will probably cost you half as much as a cramped hotel stay.
How much is a private villa in Bali?
If you're looking at a stay at Bali Palms, you can expect to pay somewhere between $50 to $80 per night (depending on how and where you book). Which is way cheaper than most popular hotel rooms – average $100-plus per night.
But here's a tip: If you book directly with us, you get the lowest possible price for your Bali Palms stay – that's your own luxury Bali jungle villa, with a pool and our chef.
Want to know more about how to enjoy a quiet Bali holiday?
AND: Get in on a Bali luxury holiday best-kept secret.
PLUS: The Bali Holiday Deals You Absolutely Shouldn't Miss.
Note: Bali Palms is fully compliant with Covid 19 safety protocols. And that means that you can book your villa when legislation allows it. When travel is not allowed, you won't be able to book, will be notified, and even refunded.
PLUS:The Bali Holiday Info You Can't Leave Home Without.
More on the Bali jungle
Where is the jungle in Bali?
Ha ha, do you have to ask? All (or at least most) of Bali is actually jungle. Well, apart from the towns and suburban areas of course! There are the volcanic Monkey Forests of Ubud (30+ minutes from Bali Palms) in the South, along with the unspoilt jungle regions of Tabanan, where Bali Palms is situated. Some call this area the "Real Bali" – and we tend to agree.

But there's also Mount Batur (Kintamani) in the North-East, the Sangeh Monkey Forest in Central Bali and the exquisite West Bali National Park to name but a few – all within 1 or 2 hours' travel from Bali Palms.
What's there to do, see and explore in the Bali jungle?
Bath an elephant. Get pick-pocketed by a monkey. And fry an egg in an active volcano. You have to try them all at least once: See the most unique "pics-or-it-didn't-happen" Bali jungle experiences.
OR: Canoe in a volcanic crater lake, make your own silver rings, and even learn to cook with one of Bali's top chefs. Also, get amazing clothes, bags and art at craft markets for rock-bottom prices. Plus the secret beaches and waterfalls you could have all to yourself. Discover 10 Bali holiday to do musts.
WHAT ABOUT: Yoga overlooking the jungle? Or a game of golf on a cliff above the Indian Ocean or in a volcanic crater? Discover Bali yoga and golf holiday
Or discover 17 of the most unique and crazy Bali jungle activities that cost less than you think.
AND: Stay in a Bali holiday house with chef and enjoy unbelievable food made from the freshest ingredients.
OR: Discover A Bali Jungle Village Hidden Gem.
ALSO: Discover Unique Animals Of The Bali Jungle You Don't Want To Miss .
HOW ABOUT: Discover The Top 30 Bali Jungle Bucket List Hits.
WHAT ABOUT: 11 Bali jungle sights and places that might just change the way you view things.