21 things you need to know when you plan the ultimate Bali holiday, 7 things to do when in Bali, 5 best yoga spots and 5 top golf courses, plus 16 ways to have the most romantic Bali getaway
A Bali holiday is an incredible experience, It will probably be the best holiday you've ever had. But planning ahead is key and so is knowing what to avoid. Like why it's bad to smile at Bali's monkeys, how your left hand could get you into trouble and the ins and outs of visiting Bali temples. PLUS: The Bali holiday info that could save your life and your pocket – we found affordable luxury Bali villas with pool.
THE BALI HOLIDAY INFO YOU CAN'T AFFORD TO IGNORE
When In Bali – A Balinese Culture Crash Course
1.Hands Off
You may not care if anyone is watching while you're on your Bali holiday, but the Balinese don't do public displays of affection. Actually it's really frowned upon, especially in and around temples, so please keep the touches and feels behind closed doors.
2.And Talking About Temples
This might be Bali holiday info that's a bit strange to westerners, but it's definitely "need-to-know" stuff. Cover your shoulders, cover your legs and don't go into a temple if you're menstruating. No, we're not kidding. Men and women should carry a sarong or wrap to cover legs and keep a short sleeved shirt or t-shirt handy too. Just in case, temples also rent out sarongs or temple skirts.
3.Is it True You Can't Enter A Temple In Bali If You Are On Your Period?
Is this Bali holiday info you really need? Actually, yes. If you are menstruating, you're thought to be impure, so no temple for you. The guard outside will even ask about your menstrual status. Obviously, many Western women will be offended. But, flout the rule and you're being offensive to the majority of Balinese. Ultimately, the decision to go in or stay out is yours, after all who will know?
But bear this in mind before you decide: The Balinese attach massive importance to the spiritual realm, and believe it's composed of three distinct tiers. The top tier or sky realm is home to the gods and goddesses. The middle represents ancestors and community, and the lower tier is reserved for the more primal forces – sexuality, blood, birth, wildness and chaos. The energies of the three realms as very different from one another, not better or worse. Either way, separate is key here.
4.MORE TEMPLE RULES
When in the temple…
Keep your head at a lower level than that of the priest's
Never walk in front of a person who is praying
Avoid flash photography
In Bali religion trumps all, so, when on a Bali holiday, you get stuck behind a prayer procession in the street, don't even think of hooting or shouting. Suck it up and wait patiently. The procession always has right of way.
THE BALI GUIDE TO USING YOUR HANDS
5.No, Not With Your Left Hand!
This is really necessary Bali holiday info, because most Balinese people will not be pleased with you if you pass them money or anything else with your left hand. And please don't touch anyone with your left hand. Why? Well because in Bali, the left hand is used to wash the genitals, particularly after going to the toilet. The Balinese consider the left hand to be "polluted", even if you do wash and sanitise, which of course you must! So, please remember to use your right hand only.
OR: Here's an interesting custom though – using both hands to give something is thought to be a noteworthy compliment.
More Bali holiday info: carry your own sanitiser as not all Bali public bathrooms have soap.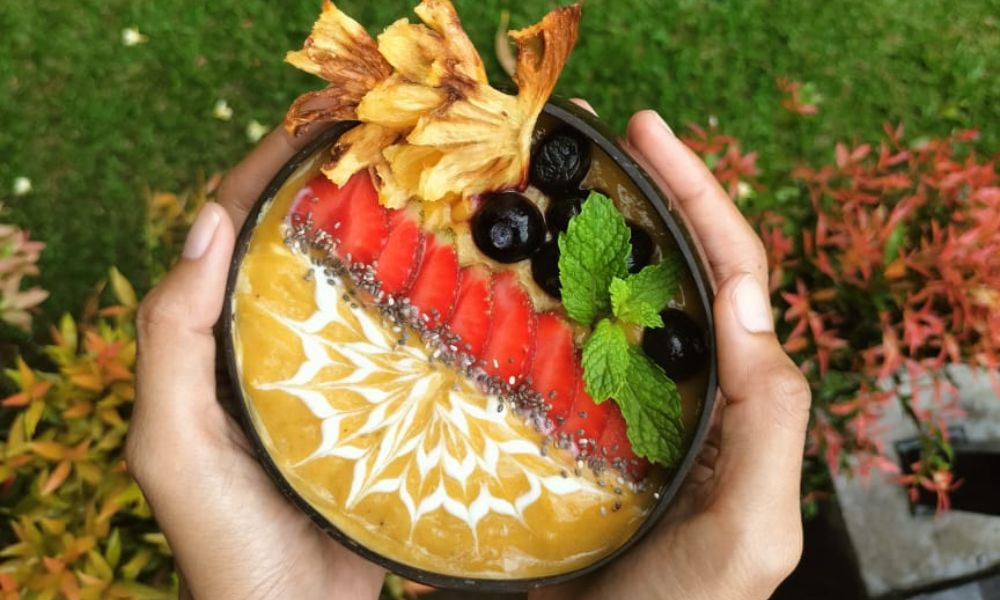 BALI MANNERS
6.Don't Point, It's Rude
Okay to be clear, don't point with your index finger, or use it to call someone over. Here's what to do instead: To point something out, make a loose sort of fist and point with your thumb. If you want to beckon to someone, like a waiter for instance, stretch out your arm and with your palm facing down and flap your arm a little.
7.Stay Calm
Whatever happens on your Bali holiday, please stay calm. Don't march about demanding to see the manager if something has upset you. Breathe deeply and keep your voice down. This is crucial Bali holiday info, because the Balinese will not appreciate temper tantrums, raised voices and confrontations. They think it's rude and they get seriously offended.
8.Please Don't Touch Anyone's Head
This Bali holiday info is key. Just because you think that Balinese baby is adorable, doesn't mean you should touch its head or face. In fact, please don't touch any Balinese person on the head. There's a belief that the soul resides in the head, making it sacred, so hands off.
9.Watch Your Step
Oops, watch out! Don't step on those offerings! When walking around while on your Bali holiday, you'll often see little packages made up of woven palm leaves, herbs and flowers – they're called canang sari and stepping on them is a massive insult. The Balinese put them out in the morning as a spiritual offering, so please be mindful. And if you want to make one check out this video
BALI HOLIDAY HEALTH
10.Beware Of The Bali Dogs & Don't Smile At The Monkeys
This Bali Holiday info could save your life: Don't touch the dogs in Bali, they bite and rabies is a danger. Monkey business is also risky. Don't try to fight off the thieving long-tailed macaques when they steal your sunglasses or jewelry, you may land up with a nasty bite. Offer them food and they'll usually drop your possessions. Even though you may find it all amusing, don't smile at the monkeys, they view the showing of teeth as an act of aggression.
11.More Bali holiday info for a healthy stay:
Avoid drinking the tap water in Bali, insist on bottled water. Try to find out from your hotel where you should and shouldn't eat.
Pack anti-diarrhoea pills just in case.
Don't be tempted to drink Arak, a rice spirit that's distilled locally. It can contain toxins from a bad brewing process and make you seriously ill. It could even kill you.
Avoid being bitten by mosquitoes. Use mosquito repellant, wear long sleeves and long trousers after sundown. Don't wear strong fragrances as this attracts mosquitoes. Sleep under a net.
Don't swim in the sea if you see a red flag on the beach. The tides are incredibly strong.
12.SERIOUSLY IMPORTANT BALI HOLIDAY INFO ALERT
Don't even think about buying or carrying drugs in Bali. If someone offers to sell you some, walk away fast. It could be a sting operation and you can get life imprisonment.
13.Don't Let Bali Leave A Bad Mark On You
Getting a tattoo in Bali has become a bit of a Bali holiday trend, but be careful of dodgy tattoo shops which can be unhygienic. Also, avoid black henna tattoos because, if you have an allergic reaction, you can be scarred for life.
14.What Shots Do I Need For My Bali Holiday?
No Bali holiday info guide would be complete without the pre vacation immunisation list. So, here's a list of possible shots you may be required to have when travelling to Bali:
MMR, TDP, Polio, flu vaccine, Hepatitis A, Hepatitis B, Typhoid, Rabies, Yellow Fever, Japanese Encephalitis, Dengue Fever.
IMPORTANT TIP: Plan to visit your local travel clinic 6 to 8 weeks before departing for Bali just in case you need to have multiple shots.
15.Can You Visit Bali During Covid?
You can visit Bali during Covid, but only on a 'social and business' visa. You must also have a negative COVID-19 PCR or antigen test result, having been tested within a 2-day window of flying. If you don't, you'll have to take an antigen test upon arrival in Indonesia and also sign a letter agreeing to be quarantined if you test positive.
In Bali, during Covid, mask wearing is mandatory. Some venues are closed due to Covid, including tourist attractions so call ahead to get updated Bali holiday info. REMEMBER: Covid rules change all the time, so check before you book your trip.
16.DO YOU NEED A VISA FOR BALI?
Under normal circumstances (non Covid) you don't need a visa if you're only staying 30 days. If you want to stay longer you can purchase a visa upon arrival in Bali at Ngurah Rai International Airport. The cost is 35 USD and after 30 days you can apply for an additional 30 days. The Visa on Arrival or VOA is available to 68 nationalities, so add to your must-have Bali holiday info that you need to check whether or not your passport needs you to have a visa to enter Indonesia.
17.What's The Penalty For Overstaying A Visa In Bali?
It's pretty steep – $70 USD per day.
18.IMPORTANT BALI HOLIDAY INFO
Check that your passport is valid for at least 6 months from the date of entering Bali.
You must have a return air ticket.
Carry cash to pay for your Visa On Arrival.
Ensure you have sufficient funds to cover your stay .
19.Which Months Are The Best For A Bali Holiday?
Less humidity, fewer mosquitos, lots of events and various festivals – sound about right? Then May to October is when you should plan your Bali holiday. The dry season is also ideal for surfing and snorkeling because the water is clearer. Bali's "coolest" and driest month is August, with temperatures ranging from 23-29° C.
But, yes, there's a but, there'll be loads of other tourists. So, if you want to get the best of the Bali weather and avoid the tourists, we have the best Bali holiday info right here: stay at Bali Palms, in a private jungle villa, with a pool and pay half the price of the hotels which charge peak price in season (July-August).
20.What About Visiting Bali During The Wet Season?
Expect fewer tourists and shorter queues at all the attractions. Plus, this is the ideal time to visit the temples and relish huge waterfalls at their best after the rain. November to April are the rainy months with a peak in January. It's not always raining though, there's lots of sunshine in between and temperatures range from 23-33° C.
So what's the challenge? Well, the humidity can make things really uncomfortable, and the mosquitoes just love this weather, so it's harder to avoid being bitten. In spite of the rain, December and March are among the popular months for a Bali family holiday.
Best Bali holiday info: Avoid crowds during September, October and November, plus in January and February.
21.What To Pack For Your Bali Holiday
Swimwear
Hiking and walking shoes,
sunscreen
Mosquito repellant
A wind breaker or hoodie for early morning hikes up Mt Batur, because it can get chilly higher up
Raincoat
Flip flops
A sarong or wrap and a short sleeved shirt (you'll need these for visiting temples…see below)
Active wear
Yoga gear
Loose fitting breathable fabrics
Best Bali holiday info packing tip: Leave Space in your luggage for Bali shopping!
MORE THINGS TO DO ON YOUR BALI HOLIDAY
Canoe in a volcanic crater lake, get butterfly kisses and even learn to cook Bali style. What about bathing with an elephant or in a mineral rich natural hot spring? There are so many things to do on your Bali holiday.
LEARN A BALINESE SKILL
1.Learn To Cook Bali Style
Cook Like a Balinese chef. Whip up Nasi goreng, fried rice with vegetables, shallots, egg and chicken. Or, try your hand at Pepes Ikan – grilled fish in banana leaf with rice and sambals. Or, there's Sate Ayam – grilled chicken with a peanut sate. You'll learn from one of Bali's finest, the chef at Bali Palms. Expect to use local ingredients you can mostly forage yourself from the property. Their hens lay fresh eggs daily and you can catch your own freshwater tilapia or gurame too. Oh, and pick your own fresh, tropical fruit – they grow bananas, mango, papaya, oranges, coconuts, mangosteen and others right there at Bali palms. The best way to truly take your Bali holiday experiences home with you.
2.Make Your Own Silver Jewellery
Design and make your own silver rings! How amazing is that? Or make friendship bracelets or earrings of your own design. What about creating a unique trinket? You can carve it out of wax, it gets made into a mould, molten metal is poured in, and hey presto, you're a pro! Instructors include qualified silversmiths, wax carvers and designers. Go on, express your creativity and come away with a Bali memory you'll literally treasure forever.
BALI CULTURE AND NATURE FEST
3.A Taste Of What Bali Offers In One Glorious Day
Lunch at the table of a village farmer, discover the secrets of traditional herbal medicine. This is the hidden paradise of Bali's unspoilt villages.Then take a walk under towering ancient trees in the protected Tamblingan forest with macaques, squirrels and countless exotic birds. Stumble upon a hidden treasure – a beautiful old temple, right in the heart of the forest. That's not all, climb Mt. Abang, the highest jungle mountain in Bali and swoon at the views – you'll be there in the glow of sunrise. PLUS, go canoeing in the Tamblingan Lake, it's in the caldera of an extinct volcano. And, do all of this in one amazing day! By far this is a collection of the best things to do on your Bali holiday.
COOLEST BALI HOLIDAY ACTIVITY
4.Take A Bath With An Elephant
Hose, and scrub them, swim with them, ride bareback and fall in love with the gentle giants at Bali's only dedicated elephant rescue facility. It's a once-in-a-lifetime experience. Possibly, the best thing to do on your Bali holiday. Oh, and the breakfast and lunch buffets are not too shabby either. The 4-hectare Mason Elephant Park was created in response to the devastating situation in Sumatra where rampant deforestation and poaching has dwindled the native elephant population.
HOTTEST BALI HOLIDAY ACTIVITY
5.Soak In A Natural Hot Spring
Soothe aching muscles, soften your skin, even relieve eczema and psoriasis when you immerse in a natural hot spring. These waters are so therapeutic, because they're super rich in minerals. And that heat? Well, Bali is a volcanic island after all.
We love Angseri Hot springs – it's surrounded by lush vegetation and those beautiful achingly green rice paddies. Oh and if you stay at Bali Palms when on your Bali holiday you're only a short drive away.
What you need to know: Showers are available, but take your own soap and towel. Leave your valuables at the hotel though, since there are no lockers. Take your own food and drink.
BALI HOLIDAY SHOPPING
6.Craft Markets in Bali
Get traditional woven and printed fabric so gorgeous, Christian Dior designed an entire range with it. What about those famous round Balinese rattan eco bags? Maybe gold and silver jewelry, ceramics and handcrafted art. Beautiful dresses, shirts, shorts and sarongs. The list is endless, Bali is shopper's paradise. Oh and the best part – you can haggle for lower prices – in fact it's expected. Now that's a Bali holiday experience not to be missed.
BALI BEAUTIFUL
7.Bali Butterfly Park
Hundreds of different butterfly species, a gorgeous garden, and get real butterfly kisses as you wander over little bridges and along winding paths.
Bali butterfly park is a magical place, and perfect for children on a Bali holiday. Creepy Crawly enthusiasts will be equally pleased. There are loads of other insects to see here too.
Stay at Bali Palms The "real" Bali Jungle Resort and reception will arrange your trip.
BALI HOLIDAY FOR TWO
On a Bali holiday for 2 we found 15 amazing things including stuff to make, do, see and eat together. Oh, and the best and cheapest place with a pool you can stay and get a free breakfast. Plus: what's up with unmarried couples and room sharing in Bali?
I WANNA MAKE IT WITH YOU
1.Put A Ring On It.
Imagine designing and making your own silver rings in just three hours. You can also carve a trinket out of wax and make a mould for a silver trinket. It doesn't get more satisfying than this. You'll have pro instructors and unique keepsakes from your Bali holiday for 2 to literally treasure forever.
2. Fry An Egg In An Active Volcano
Sunnyside or scrambled have your eggs cooked over the steam of an active volcano! And you'll be ready for a fry up after the two of you have had to wake up at 3am to trek up the sacred volcanic Mount Batur. But then, few things could be more romantic than watching the sun rise from your literally heavenly position above the clouds? It's a Bali holiday for 2 bucket list activity.
3. Make Your Own Chocolates!
Chocolate is literally the food of love. It contains the same chemical your brain releases when you are actually in love. So get even more intoxicated and design and concoct your own chocolate bar with your favourite person at your side on your Bali holiday for 2. At Pod Chocolate factory you can choose your own ingredients. Entry is free and includes free tasting! PLUS: share the love, choose a great gift box and take the reusable chocolate mould home with you.
BALI COUPLES ONLY STUFF
4. On Cloud 9 Bali Swing-Style
Get really high (like 20-storeys off the ground)! Seriously, fly over the jungle canopy in a double bed, cuddle and coo in a giant hanging nest or shriek together in a couples swing over the canyon. Swinging in Bali is a couples must-do! Don't be caught out by the wannabe swings, check out the official Bali Swing on your Bali holiday for 2.
Cost: from $35 per person
5. Tea For Two At A Private Waterfall
Love in the afternoon, yes please and pass the cakes. At Bali Palms, tea and cakes are served with elegant ceremonial ritual alongside a beautiful and private natural waterfall.
6. Take A Romantic Spin
An old-school Volkswagen cabriolet, just you and your cutey whizzing along with the wind in your hair and a magical waterfall. Sound too good to be true? Wait until you swim in the jungle pool below Tegenungan waterfall – If you haven't lost your heart to your partner by then you'll definitely lose it to the Bali Jungle on your Bali holiday for 2.
+62 87 888 288 832|[email protected]
THE FOOD OF LOVE
7. Share Amazing Food At Bali's Night Markets
When you can't choose what to eat because everything looks and smells so good, then two mouths are better than one! You get to taste so much more when you share. You absolutely have to try Bali's signature Babi guling – it's roasted pork, succulent and juicy with crispy skin. Or Betutu chicken or duck stuffed with spicy veg and nuts. You'll want to go back for more and more. On Your Bali holiday for 2, try Senggol Market Bajera, Selemadeg, Tabanan. Open from 4.00 pm until midnight. Only 16 minutes drive from your Bali Palms accommodation.
8.Breakfast at the pool? No, have it IN the pool, and it's FREE!
Don't dress for breakfast, don't even get out of the water your breakfast will come floating to you. Think fresh tropical fruit platters, smoothie bowls and even a full English breakfast with the works at Bali Palms. We can't get enough of the tropical pancakes drizzled with coconut syrup. And did we mention it's free with your Bali Palms private villa?
Book your Bali holiday for 2 at Bali Palms.
9.Hooking up
We're talking fishing of course! And it's a cool couples thing to do especially when the chef at Bali Palms serves up your catch of gurame or tilapia at a romantic dinner for two. Have it Bali style in a banana leaf with rice and sambals or how about spicy fish tacos? The choice is yours.
Only at Bali Palms.
MORE FOR COUPLES TO DO IN BALI
10. Loosen Up In A Natural Hot Spring
Bali is a volcanic island and some of its volcanoes are still active. You don't need to be scared though, you can get in on some of the warm, earthy action in a natural hot spring. Bring your own soap and scrub each other's backs. Perfect for your Bali holiday for 2 itinerary. Especially If you love being in a hot tub with your sweetheart, this is next level!
11. Butterfly Kisses
Ok this one's for the serious romantics. There are little bridges to wander across and winding paths through a pretty garden and butterflies everywhere! And there are also lots of other creepy crawlies there too, but hey that can be romantic too – take the opportunity to comfort your terrified partner or you can be comforted with lots of hugs and kisses at Bali Butterfly Park. Great for insta pics too on your Bali holiday for 2.
12. Waterfall In Love
You want magic? it doesn't get more enchanting than having a Bali jungle waterfall to yourselves on a Bali holiday for 2. Sing Sing is off the beaten tourist track, so sshh… and you might find it's all yours when you get there. Take a picnic and set up in one of the cute little huts. And when you stay at Bali Palms, it's only ten minutes away.
13. Make Your Deserted Beach Fantasy A Reality
Imagine you're on a volcanic island, on a deserted beach with the love of your life…no you're not dreaming. Bali has loads of beaches, but unspoilt Antap is off the tourist track. Black sand and striking rock formations add to its stark beauty. Go there to watch the sunset when the tides out on your Bali holiday for 2. Best of all it's only 25 minutes by car or bike when you stay at Bali Palms.
14. White Water Rafting & Swing Combo
Swing like Spidey 20 storeys high over the canyon and Bali jungle at the official Bali Swing. Then climb into a raft and take on the white waters of the Ayung River. Oh and just in case your adrenaline level drops and you start feeling a little too calm, down a shot of caffeine at a typical Balinese coffee tasting. Guaranteed to put a spark into your Bali holiday for 2.
15. Hug A Honey Bear
The honey bear at Carangsari Elephant Park just loves being cuddled. So go ahead and get utterly loved up with a real live sweetie! It's a Bali holiday experience you'll both treasure forever.
16.BEST RESORTS IN BALI FOR A HONEYMOON WITH POOL
With only ten privately located villas, in a gorgeous tropical garden with a pool, Bali Palms is the ultimate destination for a honeymoon. It's in the heart of the jungle off the beaten tourist track. Wander down to your own private waterfall, laze at the pool, do yoga overlooking the jungle or just enjoy your special time together on your Bali holiday for 2.
How much is a stay at Bali Palms for 2?
Save 50% on the normal price of a villa for two at Bali Palms. The couples price per room is only $52 per night with free breakfast for two. What a gift after you've splashed out on the wedding!
PLUS: The Bali Holiday Deals You Absolutely Shouldn't Miss.
Hey, Wedding Planners! This Is An Incredible Bali Wedding Venue.
Imagine a wedding in paradise. An intimate affair shared with a few special friends as night falls and the air fills with the perfume of magnolia and frangipane. Bali Palms has the space, the restaurant and the accommodation for the bridal couple and 9 other couples sharing!
Talking point: Can unmarried couples stay together in Bali?
So that's a good question and the answer is yes, it's fine to share a room with your significant other in Bali. It's just that there was some confusion a few years ago and there was a big media splash saying that you had to be married to share a room in Indonesia, and that having sex out of wedlock could land you in jail. Turns out the law didn't get passed. So your Bali holiday for 2 is a go!
East Meets West Making Your Bali Yoga And Golf Holiday Epic
Bali's eastern spiritual culture draws yogis from around the globe. And, its western approach to golf along with a great selection of championship courses makes it a world favourite for golfers. So whether you're into golf and your partner's into yoga, or you both love playing golf and doing yoga, you can have the best of both worlds on a Bali yoga and golf holiday. And, you get to enjoy it in an idyllic jungle setting.
Why Come To Bali for Yoga?
Because, with at least 600 yoga retreats, Bali has to be one of the most popular yoga destinations in the world.
A Bali yoga holiday is so special, since inner peace is only ever a few pranayamas away.
Bali Is Golfer's Paradise
Most people think of Bali as a tropical paradise with volcanic beaches, rice fields and lush jungles. And it is all these things. But did you know that golfers refer to the island of Bali as "the most beautiful golf course in Asia"? Bali is home to world-class golf courses making the idyllic island one of the best places for a golf holiday.
So How Do I Blend These Two Favourites For The Bali Yoga And Golf Holiday Of A Lifetime?
Well you can stay in a private jungle villa with a pool, off the beaten tourist track and have the Bali yoga and golf holiday you're craving.
So you can retreat to absolute peace and tranquility after your day on the golf course. And hey, maybe stretch out your back and those tight shoulders. Because, what could be better way to wind down than with mind-stilling and body restorative yoga overlooking the jungle.
AT Bali Palms, which locals call the "real" Bali, you can do yoga to your heart's content, just steps from your villa, on a magnificent purpose-built deck overlooking the lush Bali jungle. But, we ALSO found 5 yoga venues just a short drive away from Bali Palms.
And when you want to tee off, Bali Palms is also within a car-ride from 5 golf courses. In fact, the world class Nirwana Bali Golf Club is only 50 minutes away.
So, it's time to plan your Bali yoga and golf holiday.
5 Great Places To Do Yoga When you Stay in "Real" Bali
1.Shades of Yoga
Get your internationally accredited yoga teacher training at this well-known studio while on a Bali holiday. Why it's recommended? Because student numbers are limited to 16, so you get more individual attention. Shades of Yoga offers Level 1 (200 hour) RYT 200, Level 2 (300 hour) RYT 300 Yoga Teacher Training courses and shorter continuing education programs (YACEP) accredited with Yoga Alliance International.
2.Temple Bali
Do Yoga, dance, meditation as well as activation in the tranquility of a riverside studio in Munggu. What bliss! Especially before a day on the green when you're having a Bali holiday.
3.Yoga Breeze Bali
Whether you want a private or group class or are looking to become a teacher, Yoga Breeze Bali is registered RYS200 & RYS300 by Yoga Alliance. And, they have a highly qualified team of instructors.
+62 813 84355949
4.Juliette Wellness Studio
Do a Yoga class under a gazebo in a lush green garden with fountains. There are also aerobic and fitness classes. Plus: Great for a Bali holiday with kids up to the age of ten, because they're allowed to come and play in the Green Kids Special Corner.
5.Bali Spirit Festival
For the ultimate Bali holiday, plan a visit during Bali Spirit Festival – a celebration of yoga as well as dance and music. The next festival is planned for April 5 to April 10, 2022.
WORLD-CLASS BALI GOLF COURSES
Bali Is Golfer's Paradise
Most people think of a Bali holiday as a tropical getaway with volcanic beaches, rice fields and lush jungles. And it is all these things. But did you know that golfers refer to the island of Bali as "the most beautiful golf course in Asia"? Bali's golf are among the most beautiful in the world. And, it's safe to say, Bali is easily one of the best places for a golf holiday.
5 Top Tee off Spots On Your Bali Golf Holiday
1.Handara Golf & Resort Bali In The Centre Of A Volcano
Tee off at The Handara Golf & Resort Bali. It's located in the centre of a volcano – we're not kidding. You may expect it to be lava-hot, but actually temperatures are a cool to moderate ranging from 14-20 Celsius. It's a truly beautiful course with its dramatic backdrop, tall trees and strikingly coloured flowers. Your Bali holiday should really include this 18-hole championship course.
+62 362 3422646
2.Nirwana – Golf Under The Watchful Eyes Of The Gods
The breathtaking Tanah Lot temple, built on a rock jutting into the ocean is seen as a protective force over Nirwana Bali Golf Club. And, not for nothing is Nirwana Bali Golf Club known as the jewel among the Indian Ocean's golf courses.
For a start, the sea-facing location on Bali's southwestern coastline –Tanah Lot – sets this incredible golf course apart. Designed by Greg Norman, Nirwana has been voted by both Golf Digest and Asian Golf Monthly to be the best golf course in Indonesia. And, each hole is almost more magnificent than the last. So, it's a must-play course, integrated into the coast line. And it's framed by lush, verdant rice terraces. Nirwana is only 50 minutes from Bali Palms, the ideal accommodation for your Bali holiday.
+62 361 815900
3.Nusa Dua – If It's Good Enough For The Golfing Greats
Nick Faldo, Vijay Singh, Colin Montgomery and Ian Woosnam have all played here. So, why not put this on your Bali holiday bucket list? We're talking about the Bali National Golf Club in Nusa Dua. It offers two stunning 9-hole courses. Expect to drive off into rainforest covered hills and among towering coconut groves. Oh, and the views… think mighty Indian Ocean and majestic volcanic mountains. And, not forgetting you'll be walking in the footsteps of golfing greats.
+62 361 771791
4.Tee Off Along The Bali Shore at New Kuta
Two holes are played along the shore at the Championship Bali Golf course of New Kuta. Here you'll overlook Balangan beach and the Indian Ocean from the cliff top location. Stop and do a few pranayamas. After all you're on a Bali yoga and golf holiday.
+62 361 8481333
5.Bukit Pandawa Is Fast & Challenging
Beach and ocean views from cliff edges on a limestone landscape make for a staggeringly beautiful 18-hole executive par-3 golf course. The par-54 course is challenging, but quick, you can complete it in two hours. Lots of time left for a yoga class on your bali holiday!
+62 811 38112828
PLUS: find out what it's like to visit the "real" Bali in My Ultimate Quiet Bali Holiday.
ALSO: Stay in a Bali holiday house with chef and enjoy unbelievable food made from the freshest ingredients.
AND:Get in on a Bali luxury holiday best-kept secret.
BONUS: How Much Is A Private Jungle Villa In Bali?
If you're looking at a stay at Bali Palms, for your Bali yoga and golf holiday, you can expect to pay somewhere between $50 to $80 per night (depending on how and where you book). Which is way cheaper than most popular hotel rooms – average $100-plus per night.
But here's a tip: If you book directly with us, you get the lowest possible price for your Bali Palms stay – that's your own luxury Bali jungle villa with a pool and our chef.
ALSO: The Bali Holiday Deals You Absolutely Shouldn't Miss.
PLUS: The Bali Holiday Info You Can't Leave Home Without.
OR: Discover A Bali Jungle Village Hidden Gem.
AND: Discover 10 Bali holiday to do musts.
You may also like: 12 Questions You  Absolutely Have To Ask To Get The Best Of Your Bali Holiday.
DISCOVER: The ultimate Bali yoga retreat above the Bali jungle canopy.