Why it's bad to smile at Bali's monkeys, how your left hand could get you into trouble and the ins and outs of visiting Bali temples. PLUS: The Bali holiday info that could save your life and your pocket – we found affordable luxury Bali villas with pool
A Bali holiday is an amazing experience, It will probably be the best holiday you've ever had. But planning ahead is key and so is knowing what to avoid. Here's the Bali holiday info you need.
THE BALI HOLIDAY INFO YOU CAN'T AFFORD TO IGNORE
When In Bali – A Balinese Culture Crash Course
Hands Off
You may not care if anyone is watching, but the Balinese don't do public displays of affection. Actually it's really frowned upon, especially in and around temples, so please keep the touches and feels behind closed doors.
And Talking About Temples
This might be Bali holiday info that's a bit strange to westerners, but it's definitely "need-to-know" stuff. Cover your shoulders, cover your legs and don't go into a temple if you're menstruating. No, we're not kidding. Men and women should carry a sarong or wrap to cover legs and keep a short sleeved shirt or t-shirt handy too. Just in case, temples also rent out sarongs or temple skirts.
Is it True You Can't Enter A Temple In Bali If You Are On Your Period?
Is this Bali holiday info you really need? Actually, yes. If you are menstruating, you're thought to be impure, so no temple for you. The guard outside will even ask about your menstrual status. Obviously, many Western women will be offended. But, flout the rule and you're being offensive to the majority of Balinese. Ultimately, the decision to go in or stay out is yours, after all who will know?
But bear this in mind before you decide: The Balinese attach massive importance to the spiritual realm, and believe it's composed of three distinct tiers. The top tier or sky realm is home to the gods and goddesses. The middle represents ancestors and community, and the lower tier is reserved for the more primal forces – sexuality, blood, birth, wildness and chaos. The energies of the three realms as very different from one another, not better or worse. Either way, separate is key here.
MORE TEMPLE RULES
When in the temple…
Keep your head at a lower level than that of the priest's
Never walk in front of a person who is praying
Avoid flash photography
In Bali religion trumps all, so when you get stuck behind a prayer procession in the street, don't even think of hooting or shouting. Suck it up and wait patiently. The procession always has right of way.
THE BALI GUIDE TO USING YOUR HANDS
No, Not With Your Left Hand!
This is really necessary Bali holiday info, because most Balinese people will not be pleased with you if you pass them money or anything else with your left hand. And please don't touch anyone with your left hand. Why? Well because in Bali, the left hand is used to wash the genitals, particularly after going to the toilet. The Balinese consider the left hand to be "polluted", even if you do wash and sanitise, which of course you must! So, please remember to use your right hand only.
OR: Here's an interesting custom though – using both hands to give something is thought to be a noteworthy compliment.
More Bali holiday info: carry your own sanitiser as not all Bali public bathrooms have soap.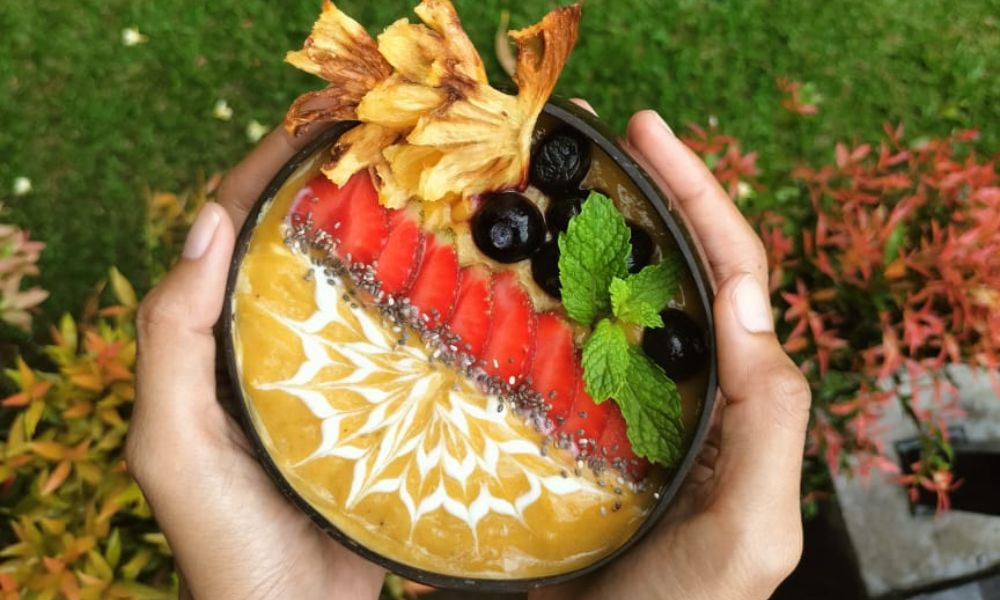 BALI MANNERS
Don't Point, It's Rude
Okay to be clear, don't point with your index finger, or use it to call someone over. Here's what to do instead: To point something out, make a loose sort of fist and point with your thumb. If you want to beckon to someone, like a waiter for instance, stretch out your arm and with your palm facing down and flap your arm a little.
Stay Calm
Whatever happens in Bali, please stay calm. Don't march about demanding to see the manager if something has upset you. Breathe deeply and keep your voice down. This is crucial Bali holiday info, because the Balinese will not appreciate temper tantrums, raised voices and confrontations. They think it's rude and they get seriously offended.
Please Don't Touch Anyone's Head
This Bali holiday info is key. Just because you think that Balinese baby is adorable, doesn't mean you should touch its head or face. In fact, please don't touch any Balinese person on the head. There's a belief that the soul resides in the head, making it sacred, so hands off.
Watch Your Step
Oops, watch out! Don't step on those offerings! When walking around Bali, you'll often see little packages made up of woven palm leaves, herbs and flowers – they're called canang sari and stepping on them is a massive insult. The Balinese put them out in the morning as a spiritual offering, so please be mindful. And if you want to make one check out this video
BALI HOLIDAY HEALTH
Beware Of The Bali Dogs & Don't Smile At The Monkeys
This Bali Holiday info could save your life: Don't touch the dogs in Bali, they bite and rabies is a danger. Monkey business is also risky. Don't try to fight off the thieving long-tailed macaques when they steal your sunglasses or jewelry, you may land up with a nasty bite. Offer them food and they'll usually drop your possessions. Even though you may find it all amusing, don't smile at the monkeys, they view the showing of teeth as an act of aggression.
More Bali holiday info for a healthy stay:
Avoid drinking the tap water in Bali, insist on bottled water. Try to find out from your hotel where you should and shouldn't eat.
Pack anti-diarrhoea pills just in case.
Don't be tempted to drink Arak, a rice spirit that's distilled locally. It can contain toxins from a bad brewing process and make you seriously ill. It could even kill you.
Avoid being bitten by mosquitoes. Use mosquito repellant, wear long sleeves and long trousers after sundown. Don't wear strong fragrances as this attracts mosquitoes. Sleep under a net.
Don't swim in the sea if you see a red flag on the beach. The tides are incredibly strong.
SERIOUSLY IMPORTANT BALI HOLIDAY INFO ALERT
Don't even think about buying or carrying drugs in Bali. If someone offers to sell you some, walk away fast. It could be a sting operation and you can get life imprisonment.
Don't Let Bali Leave A Bad Mark On You
Getting a tattoo in Bali has become a bit of a trend, but be careful of dodgy tattoo shops which can be unhygienic. Also, avoid black henna tatoos because, if you have an allergic reaction, you can be scarred for life.
What Shots Do I Need For My Bali Holiday?
No Bali holiday info guide would be complete without the pre vacation immunisation list. So, here's a list of possible shots you may be required to have when travelling to Bali:
MMR, TDP, Polio, flu vaccine, Hepatitis A, Hepatitis B, Typhoid, Rabies, Yellow Fever, Japanese Encephalitis, Dengue Fever.
IMPORTANT TIP: Plan to visit your local travel clinic 6 to 8 weeks before departing for Bali just in case you need to have multiple shots.
Can You Visit Bali During Covid?
You can visit Bali during Covid, but only on a 'social and business' visa. You must also have a negative COVID-19 PCR or antigen test result, having been tested within a 2-day window of flying. If you don't, you'll have to take an antigen test upon arrival in Indonesia and also sign a letter agreeing to be quarantined if you test positive.
In Bali, during Covid, mask wearing is mandatory. Some venues are closed due to Covid, including tourist attractions so call ahead to get updated Bali holiday info. REMEMBER: Covid rules change all the time, so check before you book your trip.
DO YOU NEED A VISA FOR BALI?
Under normal circumstances (non Covid) you don't need a visa if you're only staying 30 days. If you want to stay longer you can purchase a visa upon arrival in Bali at Ngurah Rai International Airport. The cost is 35 USD and after 30 days you can apply for an additional 30 days. The Visa on Arrival or VOA is available to 68 nationalities, so add to your must-have Bali holiday info that you need to check whether or not your passport needs you to have a visa to enter Indonesia.
What's The Penalty For Overstaying A Visa In Bali?
It's pretty steep – $70 USD per day.
IMPORTANT BALI HOLIDAY INFO
Check that your passport is valid for at least 6 months from the date of entering Bali.
You must have a return air ticket.
Carry cash to pay for your Visa On Arrival.
Ensure you have sufficient funds to cover your stay .
Which Months Are The Best For A Bali Holiday?
Less humidity, fewer mosquitos, lots of events and various festivals – sound about right? Then May to October is when you should plan your Bali holiday. The dry season is also ideal for surfing and snorkeling because the water is clearer. Bali's "coolest" and driest month is August, with temperatures ranging from 23-29° C.
But, yes, there's a but, there'll be loads of other tourists. So, if you want to get the best of the Bali weather and avoid the tourists, we have the best Bali holiday info right here: stay at Bali Palms, in a private jungle villa, with a pool and pay half the price of the hotels which charge peak price in season (July-August).
What About Visiting Bali During The Wet Season?
Expect fewer tourists and shorter queues at all the attractions. Plus, this is the ideal time to visit the temples and relish huge waterfalls at their best after the rain. November to April are the rainy months with a peak in January. It's not always raining though, there's lots of sunshine in between and temperatures range from 23-33° C.
So what's the challenge? Well, the humidity can make things really uncomfortable, and the mosquitoes just love this weather, so it's harder to avoid being bitten. In spite of the rain, December and March are among the popular months for Bali family holidays.
Best Bali holiday info: Avoid crowds during September, October and November, plus in January and February.
What To Pack For Your Bali Holiday
Swimwear
Hiking and walking shoes,
sunscreen
Mosquito repellant
A wind breaker or hoodie for early morning hikes up Mt Batur, because it can get chilly higher up
Raincoat
Flip flops
A sarong or wrap and a short sleeved shirt (you'll need these for visiting temples…see below)
Active wear
Yoga gear
Loose fitting breathable fabrics
Best Bali holiday info packing tip: Leave Space in your luggage for Bali shopping!
You may also like…
What's There To Do, See & Explore In The Bali Jungle?
Bath an elephant. Get pick-pocketed by a monkey. And fry an egg in an active volcano. You have to try them all at least once: See the most unique "pics-or-it-didn't-happen" Bali jungle experiences.
OR: Canoe in a volcanic crater lake, make your own silver rings, and even learn to cook with one of Bali's top chefs. Also, get amazing clothes, bags and art at craft markets for rock-bottom prices. Plus the secret beaches and waterfalls you could have all to yourself. Discover 10 Bali holiday to do musts.
WHAT ABOUT: Yoga overlooking the jungle? Or a game of golf on a cliff above the Indian Ocean or in a volcanic crater? Discover Bali yoga and golf holiday
Or discover 17 of the most unique and crazy Bali jungle activities that cost less than you think.
AND: Stay in a Bali holiday house with chef and enjoy unbelievable food made from the freshest ingredients.
PLUS: Discover A Bali Jungle Village Hidden Gem
AND: 12 Questions You Absolutely Have To Ask To Get The Best Of Your Bali Holiday
ALSO: discover Unique Animals Of The Bali Jungle You Don't Want To Miss
PLUS: The Bali Holiday Deals You Absolutely Shouldn't Miss.
YOU MAY ALSO LIKE: 54 WaysTo Have  An Amazing Bali Holiday